Web Based MLM Software
Web Based MLM Software vs. MLM Software - Why choose hosted MLM Software or Web Based MLM Software instead of MLM Software hosted on your own network?
There are many reasons why Web Based MLM Software hosted externally is a far better solution to your MLM Software needs.
Web Based MLM Software offers:
Central Database Accessible from Anywhere
Online Replicated Pages, Sign Ups, and Members Back office and members data visibility save on Member Support costs
Better Security
Centralized Back Up Routine
Constant updates to Web Based MLM Software done without a hassle to you
Robust Bank Quality Backend Secure Database Structure utilizing Enterprise Level Database Software like Microsoft SQL Server becomes available to you at very small cost with Web Based MLM Software
No Installation or Configuration Hassles (NO IT Team needed!)
Web Based MLM Software is much easier and quicker to support by the vendor
No downtime for your system even if your office power or internet goes out
Hosted MLM Software benefits from development led by hundreds of real MLM Software clients in the real MLM world, vs you being stuck with the version you bought at the time you bought it, or stuck with MLM Software based on the creativity of your own inward thinking development team.
For a Full Feature List of our MLM Software Click Here
Follow the Links below to learn more about our Outstanding Web Based MLM Software offerings.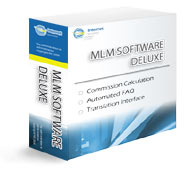 (1hr 5 min shows Deluxe Version)
For More Web Based MLM Software Demos Click Here
To see the exact links and explanations of those links you get in our Multi-Lingual Hosted MLM Software System, Click Here.
<< Back