MLM Virtual Stock Market Game Module!
The Virtual Stock Market Game concept has been around for a while. It seems to have started with the wildly popular StockGeneration.com which Wikipedia says was longest-running most infamous Ponzi Scheme in the history of the Internet.
After that we had Virtual Games Global which did it in a more legal manner and promised to combine it with an online casino, that turned into World Games Inc. that delivered on those promises and the Virtual Stock Market Game gained a lot of worldwide supporters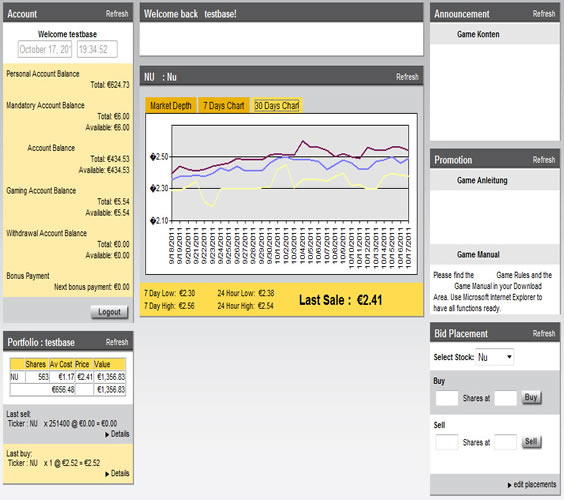 The INS Virtual Stock Market Game as Skinned by a Client
Worldgames Inc. turned into Aspiritus which eventually went bust for various management issues. It is not clear whether Aspiritus ever did get a gaming license on the Virtual Stock Market Game.
As of the writing of this page, INS is aware of one party to run the Virtual Stock Market game and an Online Casino as well as Sportsbetting all FULLY compliant with an actual Gaming License for the Virtual Stock Market Game.
INS has a number of clients using its ONLINE VIRTUAL STOCK MARKET Game Module.
It is a simple concept. It is a stock market that has no real stock. It is Virtual Stock, and the membership controls the up and down movement with supply and demand just like the real stock market.
No fundamentals to worry about, the stocks are all Virtual.
The INS Stock Market Game can handle an unlimited number of stocks, and we can certainly advise on how to fit an MLM around it.
INS had involvement on a Consulting level with VG Global that became World Games Inc. that became Aspiritus before it went out of business after doing in excess of $300 million in sales in a year, as well as numerous other clients that have attempted or are successful with similar concepts.
For more information or to learn more please Contact Dennis Wilson directly at 604-998-2256 x 101
INS has also had clients turn it into an idea incubator. The "Stock" becomes and idea. Credits are issued to all involved in trying to "Push" their idea. The concept is by getting buy in from your peers, you have the ability to push the value of your "idea" up. At the end of a specified period of time, the highest valued "idea" wins and is implemented within the organization.
The possibilities are endless. As a gambling game with a gaming license, or something just for fun for members to earn rewards with, or an idea incubator as described above, it can be a fun and powerful way to accomplish the "Fun" factor into an MLM.
---
Back